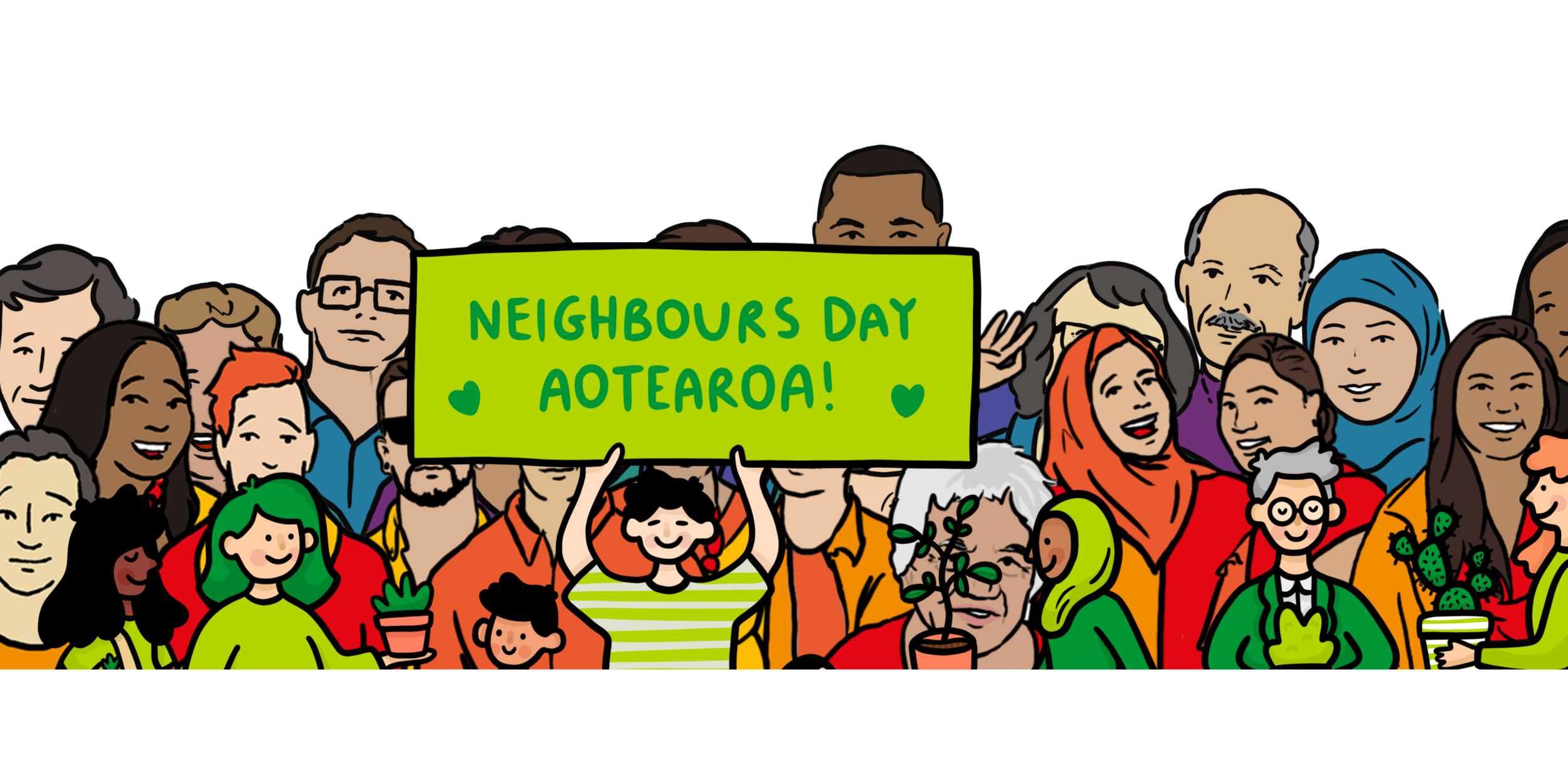 Past events: Neighbours Day Aotearoa
Check out what your neighbours have been up to!
If you haven't been involved in Neighbours Day yet, this is a great place to see what others did and gain some inspiration. Big or small, online or large events, there are many ways to connect with your community.
In 2020 and 2021 we have had to respond to lockdowns and an increased need for social distancing, so we made sure there were options for those who still wanted social connection while remaining safe during varying lockdown levels.
Notes for neighbours 2021
Notes for neighbours was a way for you to celebrate your neighbours. We asked you to write a poem, reflection or a note to your neighbour and then we chose five favourites to be made into posters that we got posted on billboards across Aotearoa.
Neighbours Day Aotearoa 2021: Planning and events!
What does it take to plan an event? Check out below…from making and printing off invites to some serious planning dinners (looks like fun). Also, keep scrolling to see what others are doing around Aotearoa. Libraries, neighbours and community groups are all getting together to have fun and get to know each other better.
What did Neighbours Day Aotearoa 2021 look like?
Te Atatū South Neighbours Day Aotearoa 2021
"A small group of neighbours and I worked together to organize our street party. The party was really enjoyable…All 36 households in the street were invited to bring a plate of food and drink to share, and something gardening related to swap. Members of 15 families took part; an additional 4 sent apologies, so that was a really good response…We started around 4 pm on Sat 27th March, with children's games (like twister, egg and spoon races, bubble wands, noughts and crosses, ball-games). The kids loved it. New friendships were made, which continued the next day when the cul-de-sac was full of children all day, and the following days! The adults had a good time too. With some extra layers to keep the chill at bay, and yummy foods from our Asian, Iranian, Pasifika, Kiwi and European cultures, we chatted, shared stories and laughed, until the party finished at 9.30 pm. We'll definitely do this again next year! Marlies reported their Neighbours Day Aotearoa events have "made a significant difference in the general feeling of community and connection in our street. Now people stop and chat when walking or even from the car, and we have had a few get togethers, this one being the biggest, longest and best attended."
Western House B&B Otekaieke/Kurow Neighbours Day Aotearoa 2021
Neighbours Day Aotearoa 2021 at school
Classes at three North Otago schools made seed gifts, and potting up seedlings to give away during Neighbours Day Aotearoa week. We reckon you must have some pretty cool teachers!
Neighbours Day Aotearoa 2021, Whau Valley
Andrea from the Whau Valley sent us these great pics of their Neighbours Day Aotearoa event: "Over 25 neighbours came and were able to enjoy the evening with each other. We had a produce sharing table…I didn't get a photo…but there was heaps of stuff (avocados, limes, chillies, quinces, tomatoes, Maori potatoes, pak choy, lettuce, grapes and flowers).
Ages ranged from 16 to 85. The evening was a massive success, with people inviting their neighbours for dinner, sharing ideas, resources and interests...lots of wanting to continue their connections."
Neighbours Day Aotearoa 2021, Mangawhai Shared Garden
Angela from Mangawhai sent in pics of their Neighbours Day Aotearoa working bee. They have a seedling swap box and will continue to maintain this as an Environmental Science class, all year. Wow!
Neighbours Day Aotearoa 2021 with Te Maire School, Northland
What a great event in Northland, organiser Paula reported: "We had a great turn out of at least 40 adults and 40 kids, and served about 120 hotdogs and lots of ice cream! Had some lovely feedback from attendees, and a mix of all ages."
The Neighbours Day Aotearoa 2021 "Shout your street" in Hastings
Cissy, Kyle, Cath and Shane with Bay Espresso were offering free coffee, hot chocolates and seeds for one lucky street in Hastings! All you had to do was say why your street was the best! How cool is that!
Neighbours Day Aotearoa 2021 in your library!
Whangaparāoa library's Neighbours Day Aotearoa 2021
They sent us some great pics so we thought we would share them as a how to hold an event! Check it out!
Good neighbours are everywhere:
Neighbours Day Aotearoa 2020
Neighbours Day 2020 coordinators, Cissy and Sam launched Neighbours Day 2020: 10 Days, 10 Ways. Due to lockdown, this went online and we held an online Zoom festival instead.
Some of you got creative and held events online, others got in early or waited until we were out of lockdown.